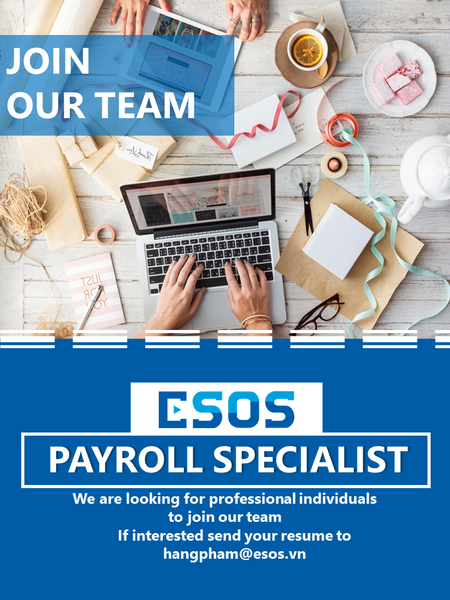 1. PAYROLL SPECIALIST – CLIENT SERVICE TEAM – CODE CS101
JOB DESCRIPTIONS
Implementing tasks as respond, consult and perform what client requires relating on ESOS's business line (payroll, tax, social insurance…).
Directly working with the authority (Tax Department, Social Insurance Agency, Department of Industry and Trade) to perform company's services
Answering calls and liaising with clients and partners competently
Sales new client
JOB SKILLS AND REQUIREMENTS
Education & Experience
Knowledgeable in terms of Payroll, HR, Tax, Social Insurance… will be an advantage
Accounting background is preferable
Key Competency
Math: Calculate changes to pay rates based on time off, overtime, etc.
Communication: Talk with clients to help them understand their paycheck and any changes that may occur.
Organizational Skills: Payroll specialists gather data from multiple sources, and work with many employees, clients and pay scales. Keeping it all organized is important.
English: Writing & Speaking fluently
SALARY & BENEFITS
Salary & Benefits
Monthly Net income: 5 million VND – 15 million VND according to level of knowledge and skill
Laptop
12 holidays, excluding sick leave
Company trip (at least once/year)
Reward according to company sales' performance
13th salary full paid
Other basic benefits
Crucial supports & advantages
Experience and knowledge training from senior business mentor
Flexible working environment (target control, rather than time control)
WORKING DAY & TIME
Working time is from 8:30 am to 6:00 pm on 5 days/ week – From Monday to Saturday
Saturday is not required to go to work, unless special rush case
Place to work: District 3 – HCMC
CV (with photo) & Cover letter: Send to Ms. Linh – linhdo@esos.vn
2. ACCOUNTING – CLIENT SERVICE TEAM – CODE AC102
JOB DESCRIPTIONS
Responsible for applying accepted accounting principles and procedures to analyze financial information, prepare accurate and timely financial reports and statements and ensure appropriate accounting control procedures.
Evaluate and advise for clients about accounting principles or issues
Compile and analyze financial information to prepare financial statements including monthly and annual accounts
Ensure financial records are maintained in compliance with accepted policies and procedures
Ensure accurate and timely monthly, quarterly and year end close processes
Establish and monitor the implementation and maintenance of accounting control procedures
Resolve accounting discrepancies and irregularities
Monitor and support taxation requirements
Develop and maintain financial databases
Prepare for financial audit and coordinate the audit process
Ensure compliance with relevant laws and regulations and integrity of financial data
JOB SKILLS AND REQUIREMENTS
Education & Experience
Minimum of 3 years' experience in financial and accounting practices and principle
Accounting degree or equivalent
Knowledge of applicable laws, codes and regulations
Knowledge and experience of accounting computer applications
Key competencies
Communication: Talk with clients to help them understand their accounting principle and advises for their accounting issues
English: Writing & Speaking fluently
SALARY & BENEFITS
Salary & Benefits
Monthly Net income: 10 million VND – 20 million VND according to level of knowledge and skill
Laptop
12 holidays, excluding sick leave
Company trip (at least once/year)
Reward according to company sales' performance
13th salary full paid
Other basic benefits
WORKING DAY & TIME
Working time is from 8:30 am to 6:00 pm on 5 days/ week – From Monday to Saturday
Saturday is not required to go to work, unless special rush case
Place to work: District 3 – HCMC
CV (with photo) & Cover letter: Send to Ms. Linh – linhdo@esos.vn
3. PAYROLL SOFTWARE SUPPORT SPECIALIST – CODE IT103
JOB DESCRIPTIONS
Payroll software management:
Document and track issues in internal software and hardware operation.
Work closely with software development team to ensure the software function completion
Provide training and support Payroll Specialist to perform calculation sheet by software
Perform root cause analysis for each issue, escalating as necessary.
Database administration & Security
Manage the software database
Cooperate with third party to back up database
Ensure data security by preventing unauthorized access to software (hacking)
Office technical support
Manage and control internal office mail system, server, and website.
Manage all other office devices
Install and configure computer hardware operating systems and applications
Monitor and maintain computer systems and networks
JOB SKILLS AND REQUIREMENTS
Bachelor's degree, Information Technology department.
3 years of experience in office technical support and database/ software administration
Payroll experience and knowledge will be an advantage
Knowledge & experience of Database management and security
English: Writing & Speaking fluently
SALARY & BENEFITS
Salary & Benefits
Monthly Net income: 10 million VND – 20 million VND according to level of knowledge and skill
Laptop
12 holidays, excluding sick leave
Company trip (at least once/year)
Reward according to company sales' performance
13th salary full paid
Other basic benefits
WORKING DAY & TIME
Working time is from 8:30 am to 6:00 pm on 5 days/ week – From Monday to Saturday
Saturday is not required to go to work, unless special rush case
Place to work: District 3 – HCMC
CV (with photo) & Cover letter: Send to Ms. Linh – linhdo@esos.vn